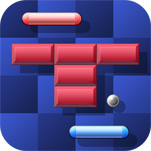 The Twins 1.1.0
"The Twins"は、上下のパドルを操作してボールを跳ね返し、すべてのブロックを破壊することが目的のゲームです。
1 PLAYERモード、または、2 PLAYERS COOP.モードで遊べます。
また、OpenFeintにも対応しています。
"The Twins" is a game to break all the blocks by moving the upper and lower paddles to ricochet the ball.
You can play the game in "1 PLAYER" mode or "2 PLAYERS COOP." mode.
And it is adapted to OpenFeint.
[purchase] (App Store)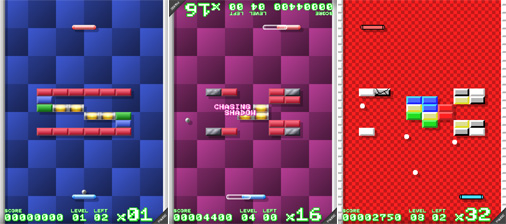 system requirements
Compatible with iPad
Requires iPhone OS 3.2 or later
instruction
タイトル画面でゲームモードを選択します。
1 PLAYERモードでは、下のパドルを操作します。上のパドルは自動的に下のパドルと左右対称に移動します。
2 PLAYERS COOP.モードでは、上下のパドルをそれぞれプレイヤーが操作します。
また、グラフィックの切り替え(NORMAL/CLASSIC)とパドルの移動方法(SYMMETRIC/PARALLEL)も変更できます。
Choose game mode in the title screen.
In "1 PLAYER" mode, you use the lower paddle, while the upper paddle moves automatically to the right and left in symmetry.
In "2 PLAYERS COOP." mode, each player uses one of the two paddles.
Also you can change the graphics (NORMAL or CLASSIC) or change the paddle move type (SYMMETRIC or PARALLEL).

ステージの上端または下端にすべてのボールをロストするとLEFTが1減り、0になるとゲーム・オーバーです。
ブロックにはボールを1回当てると壊れる通常ブロックの他、2回当てると壊れるハード・ブロック、破壊不可能のアンブレイカブル・ブロック、そして、破壊するとフィーチャーが発動するフィーチャー・ブロックがあります。
When all of the balls have been lost at the upper and lower edges of the stage, the "LEFT" count decreases, and it goes to zero, the game is over.
Regular blocks break when hit once by the ball, hard blocks break when hit twice, and unbreakable locks can never be broken. Feature blocks produce special effects when they break.

フィーチャー・ブロックを破壊することで発動するフィーチャーは4種類です。
There are four kinds of features produced when feature blocks break.

ACCELERATOR
ボールの移動スピードが速くなります。
The ball speeds up.


NUCLEAR DIVISION
ボールが2個、または3個に分裂します。
The ball breaks up into two or three balls.


CHASING SHADOW
分身が現れパドルの動きを追尾します。分身は2つまで現れますが、10秒たつと消滅します。
A shadow appears and chases paddle movement. Up to two shadows appear, but they disappear after ten seconds.


CATACLYSM
ステージが回転して上下が入れ替わります。
The stage rotates and the upper and lower edges reverse.


iPad本体を揺らすとボールの軌道を少し変えることができますが、代わりにパドルの長さが短くなります。
夢中になって振りすぎないよう気をつけましょう。
You can shake the iPad to change the ball trajectory a little in exchange for paddle length.
Do not shake too violently even if you are excited.


画面右下に表示されている数値はスコア・レシオ(SCORE RATIO)です。
連続してブロックを破壊することでx2、x4…と上昇し、最大64倍になりますが、連続して壁に当たると下がります。
高いスコア・レシオを維持してハイスコアを目指してください!
The number displayed at the lower right of the screen is the "SCORE RATIO".
The number increases x2, x4... when blocks break continuously, up to a maximum of x64, but it falls when a wall is hit continuously.
Aim for a high score by maintaining a high "SCORE RATIO"!

不具合が発生した場合はiPhone OSのバージョンとともにfeedbackからお知らせください。
Please send me your feedback with your iPhone OS version.