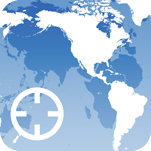 Signal Fire 1.1.0 (freeware)
GPSから取得した位置情報を友達にメールで送信したり、BrightkiteにチェックインしたりするためのiPhoneアプリケーションです。
"Signal Fire" is an application for iPhone that allows you to send your current location to your friends, or check in at your location on Brightkite.

[download] (App Store)
system requirements
iPhone OS 2.1 or later (iPhone only)
instruction
検索ボタンをタップして、位置情報の取得を開始します。
Tap search button to start locating.


表示される地図で、現在位置を確認できます。位置を補正するにはマーカーをドラッグします。
You can confirm your current location on displayed map, and drag marker to adjust location.


アクションボタンをタップして、アクション(メールで地図のURLを送信、メールで画像のURLを送信(携帯電話向け)、Brightkiteを起動、地図を表示)を選択します。
Tap action button to choose action. (Send map url via e-mail, Send image url via e-mail(optimized for cellular phones), Launch Brightkite or View map)

不具合が発生した場合はiPhone OSのバージョンとともにfeedbackからお知らせください。
Please send me your feedback with your iPhone OS version.