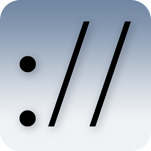 Open URL 1.1.0
URLを指定して他のアプリケーションを起動するためのユーティリティです。
指定したURLスキームを処理できるアプリケーションがあるかどうかの確認に使用できます。
"Open URL" allows you to organize URL string for launching other application.
You can use this utility for checking whether other application can handle an URL scheme.
[download] (App Store)
system requirements
Compatible with iPhone and iPod touch (2nd generation)
Requires iPhone OS 2.2 or later
instruction
各項目に入力して[Go]ボタンをタップすると、そのURLスキームを処理できるアプリケーションがある場合、起動します。
パラメータのキーと値はURLエンコードされます。
Enter each fields to organize URL, and tap "Go" button to launch application.
Keys and values of parameters will be URL-encoded.

URLスキームをリストから選択するには、[Choose]ボタンをタップします。
また、[//]ボタンをタップすると、Path etc. の先頭に「//」を挿入できます。
Tap "Choose" button to choose the preset scheme from list.
Tap "//" button to insert double slashes into the head of "Path etc.".

右上のヒストリボタンをタップすると、それまでに起動したURLの一覧が表示されます。
ここからURLを選択して再編集することができます。
Tap the history button on the top right to view the URLs have been launched before.
You can choose URL and organize again.
不具合が発生した場合はiPhone OSのバージョンとともにfeedbackからお知らせください。
Please send me your feedback with your iPhone OS version.